Good attendance at our Feb meeting , KG7IDY, KØIP, KG7IZF, KG7IZG
N7FLM, KJ7DGS, KI7UKJ, KJ7DGW, KI7IQJ, KAØAJS, KF7YVW,
WA7VKE, N7DGN, Mrs DGN, N7TZK, KO7P, KI7VMF, one unlicensed.
and a great, and very informative program about batteries.
Several folks at the meeting want it posted here on the web so they could look
it over again,, here's a link to the PDF presentation, although not live like at the
meeting, there is LOTS of good information,
Presentation Link




Your assistance is requested
The PARC Board is looking for NEW ideas for club programs.
we're happy to cover the same topics every several years. BUT
WE are sure some of you newer hams have some great ideas we have overlooked,
WE request your presents and ideas at our meetings.. Please attend our meetings !






Coming soon, March 9th,
the IDQP, This is a call for operators.. want to try your luck from my
shack, will provide training, etc etc,, contact KØIP on the roster page.
We will have between 12 noon Saturday into the evening, , thats a lot of
hours. need ops to win for Idaho,
Its fun, its fast , you won't be bored.. We can run RTTY if you want or
just plain jane SSB..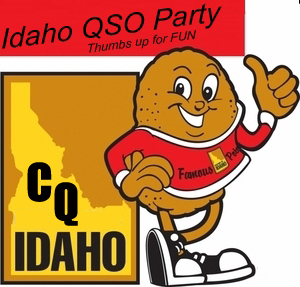 Testing Results for Saturday 12 Jan 2019...

We had 11 candidates for testing.  
5 candidates earned their Technician license 
2 candidates earned their General license 
2 candidates earned their Extra license 
and 2 candidates failed to earn any license.

I want to thank the VE's who helped 
with the testing.  

They were: 
Jim KO7P 
Dick WA7VKE 
Elborn KA7MLM
Dave N7TZK.  
Without their help we couldn't give the tests.  
These VE'S do a great job.

Mike Vaughn  WB7DNU

This is reprinted from the ARRL contest newsletter, the entire
newsleter is available at 
http://www.arrl.org/contest-update-issues?issue=2019-02-06. 
Feb 6 edition.
NEW HF OPERATORS --THINGS TO DO
If you're not part of a local radio club with members involved in HF contesting, consider joining one. Besides being able to draw upon the expertise of other amateurs, some projects such as those involving antennas and cabling can be made easier when others help out. Enthusiasm begets enthusiasm, and many clubs encourage contest participation with inter-club competitions and club awards for contest activity. One place to find a club is the ARRL Contest Club List. Clubs on the list submit or intend to submit contest logs for ARRL contests.
The upcoming ARRL International DX Contests are great opportunities to work a lot of DX for fun or to increase your DXCC totals. In this contest multipliers count per band, and the DX stations will only be looking for US and Canadian stations.

And speaking of things to do,

 


just to the left is a Call for Operators, 
now not to brag toooo much , but if I don't 
you probably won't know. My station  (KØIP) 
while not world class, certainly out classes 
most area stations, So when you push the TX
button, you expect something to happen, 
No, not smoke. With a Big antenna, (repeat sort'a BIG)
a Hi Power amplifier, and a nice radio, 
although not a Yaesu,  you expect to get contacts. 
THIS IS NOT QRP, Notice to airman, or birds: flying in 
front of  my antennas is not advised, RF burns are 
possible !  think incineration ?? 
Sorry, Just stating the facts. So again, check out 
the Idaho QSO party op at my Shack.  your chance to 
try something new.
sincerely John Wilson  
on the sign up sheet are 
WØWN supporting CW
KO7P  sunday morning,
W7NJM  between 12:30 and 2 pm Saturday.
K7ETE, is on the list, variable times 
and me KØIP  picking up the slack, 
WHO else wants to give it a try ?? 

here is a sample of whats possible 
a bit old, but it was a really big deal then,,  W1AW and PARC 


Watching your 2 meter HT Charging isn't much fun, this is !!!!!!!