Dipoles are easy and cheap to install, almost invisible and work good. They should be as high as possible, installed in the clear away from metal parts of your house, and power lines.
Here's a chart and for dipoles. dipole length chart from the 1962 ARRL handbook.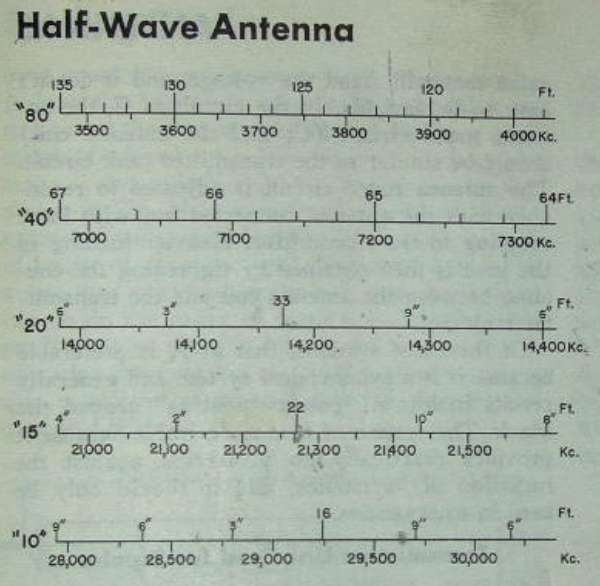 COAX LOSS link to Loss calculator
Quick thoughts: the longer the coax the more power you lose,
the LOSS also effects how much of the received signal you lose.
The higher the frequency you are using, the more you lose in the coax.
Bigger diameter coax cable usually has less loss. However, knowing the impedance of your antenna and the coax is important.
A dipole is close to 75 Ohms. you can use cheap RG-59 TV cable since its also 75 Ohms.

Another coax loss page, http://www.w4rp.com/ref/coax.html

WHAT THE HECK what kind of coax is this ?
a list of most coax's starting with RG- Link

QSL CARDS Guidelines
First, if at all possible to have your card printed on a 3 1/2"x 5 1/2" post card card stock, not a piece of paper, something like postcard thickness. I use both 67 and 110 LB Bond.

minimum information needed :
1. your Call
2. your name and complete address.
3. something that indicates 2 way radio contact... like
"Confirms QSO WITH" or my card says
"This QSL card Confirms TWO-WAY radio contact with",
4. a place to write contact information about your QSO,
his call, the date, the time in UTC , the frequency , the RST, and Mode.

optional :
for the county hunters, your county and for
weak signal VHF guys your Grid .
Some folks put the CQ zone number and the IARU zone.




This card does all that. its a club card.
Plus a place to request a card or to thank someone for sending their card to you .
see confusion below ..
YOU NEED TO SIGN your card when you send one out.


Note the extra info above and beyond the minimum ,
like his Zones and club info, email, a place for notes.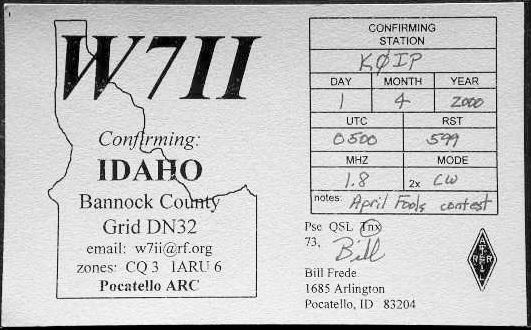 Confusion:
On both of these cards there is a place that seems to be a confusion point, that being
Pse QSL Tnx

If you need a QSL, circle Pse for please, put it in an envelope along with a SASE.
If you received his card in the mail, and are sending a reply circle Tnx.
otherwise unless you both keep good records, you will be replying over and over.
Circle one, not both,, its please or thanks not both.
Here is a copy of my present card, I make my own on my old trusty HP4 laser printer, sometimes not an easy task, and I am not sure its cheaper than buying pre-printed
QSL's. There are several printers in pocatello that makes cards, if you ask..
you will notice I did away with the Pse and Tnx confusion , the RST is preprinted since
in my opinion it is totally useless information, however it might be required by for an award, so its there.
If I copied your call without assistance, your in my logbook its a contact ..
I also have more info on my card than you need but the basics are all covered.
that is , again, the stations call, time and date (utc), band , mode and 59+.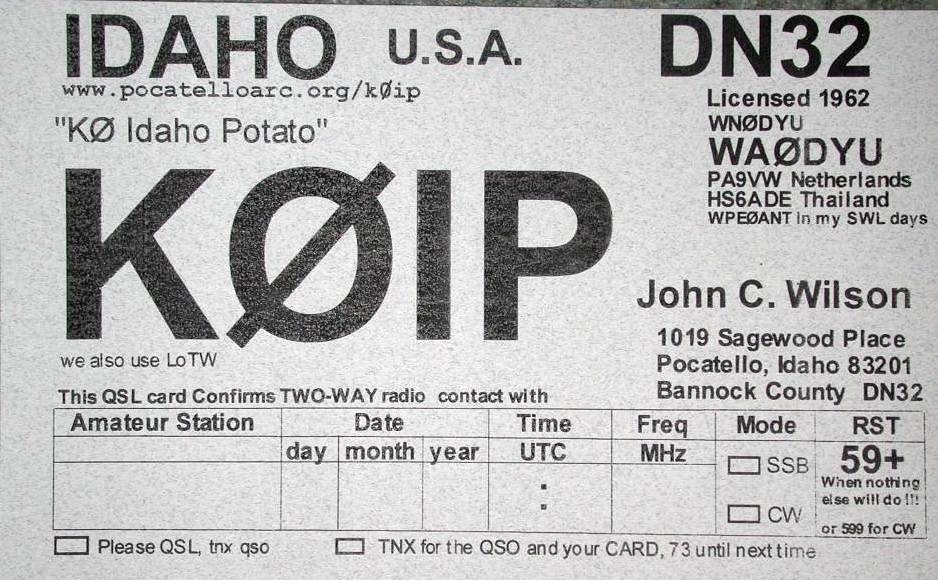 REAL HAMS, have QSL cards.
I also use the ARRL LoTW system too.

other systems like eQSL, and QRZ.com's QSL system are just for that warm fuzzy feeling, not worth the bits and bytes they are made of. sort of like Bitcoin ????