Dentron, collins, hallicrafters swan forsale ham radio cushcraft hy-gain antennas 2 meter beam open frame power supplies for sale idaho ut mt wy HDBX-48 TenTec Hercules 444, 450 mhz Corner Reflector, 204BA , military RDO receiver, MLA-2500, 10-4CD monobander,
WEB Last new item added sept 27 2022 .
North Logan
Greetings,
I have the following receivers for sale, pickup only, in North Logan, Utah.

Prices are firm. I will consider swap or price reductions for National SW-3 broadcast band coil sets.

If you want pictures email and I'll send some to you.



National HRO 60

with A, B, C, D, and E coils. I received this radio with no power transformer. I installed a Hammond
unit and re-capped it. It plays fine. I don't have the dial scales to go with each coil, however. No speaker is included.
$200.00



National HRO-7

with a E coil. This too has been re-capped and was a daily driver for a year or so. No speaker is
included. I do have a power supply somewhere for it. If I find more coils, I'll include them. I just don't remember what I acquired for it.
$150.00



Hammarlund Comet

with a few coil sets. It is as found, from a friends fathers estate. I already have two, so I don't
need it, or want to restore it.
$50.00

Hammerlund

Super Pro SP-400

with power supply, I recapped the power supply a few years ago. Radio plays fine but should be gone through.
Paper capacitors replaced, etc. It's heavy. I can't lift it any more. $300.00



Heathkit Apache TX-1 transmitter

. Excellent cosmetic condition. I've never powered it up. I will NOT ship it.
I will get it to the BARC Swaptoberfest in October if someone wants to pick it up there. Price is $150 dollars.

Wally Gibbons, AF7FH
North Logan, Utah, Wally Gibbons <wally.gibbons--at--gmail.com>

Placerville, ID
1. 50 ft. Rohn 45G tower (base, top section and four mid sections), universal rotor plate and working heavy duty rotator.
2. Bencher Skyhawk 3 x 10 10-15-20 meter beam antenna
3. 5-el. 6 meter beam (Hy-Gain I think)
4. 11-el. 2 meter beam (Cushcraft)
5. 2-section VHF corner reflector antenna

Asking $1,000 for the tower and $500 for antennas

Rick Barber, W7OLA (208) 392-9437 red.mist.222((AT))gmail.com

MIDDLETON, ID
Yaesu FT-8900 10 - 6 - 2 - .70 meters
Quad band transceiver plus Separation kit
Used mobile but well taken care of and no signs of wear. No scratches or blemishes on head unit. It has been MARS modified. The Mic is new and has not been used. $350.00.

Included:
Radio and new mounting bracket
New MH-41 Microphone
New Microphone Clip
YSF-8900 Remote head mounting bracket
YSF-8900 Remote Cable
Power cable
No original box or manual
Jay W6JVW Zzygote@socal.rr.com

Pocatello , wa0dyu@gmail.com
estate of W7RSK
FT-990 this has a built in power supply, runs on 120VAC ,, works great , pickup only 160-10 meters
$675 in near perfect condition. mike, book, ready to plug in.. estate of W7RSK

Heavy duty,, G5RV 80 -6 meter dipole $85,,


OK, estate property,,,

WA2NAN True-Talk ii G5RV 80 to 6 meters its 102 feet long, with 31feet of ladder line and 70 feet of coax to get to your shack.

EHAM'S # ONE RATED 102' G5RV by TrueTalk

cant go wrong, lots of coax to get into your radio shack, heavy duty,,






Pullman, WA 99163


Items for sale: yaesu 450D like new, less than a hour talk time on it. In the box. Asking $700


Contact WJ6FOX< j1776f(((at)))gmail.com >





McCammon, ID
TUNER BLOW OUT !! Hi Hi
K7CF, cleaning house see this link , lots of pictures, Webmasters note: I will try to get them better organized when I get a bit of time
contact mike at activist47((at))gmail.com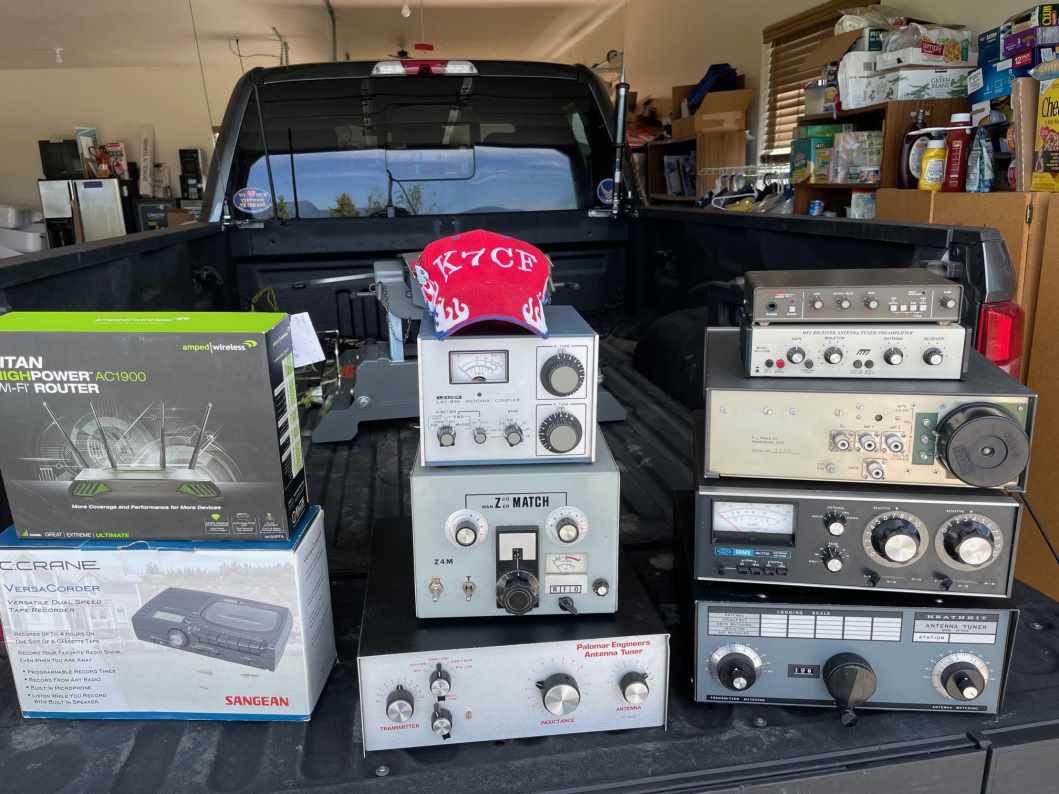 Bountiful, Ut
Tennadyne: T-8 log periodic with the Slipp-Nott mast accessory (it prevents twisting in a wind). The boom length is 18 feet and list price is $918. The Slipp-Nott list price is $140. I'll send the package for $400. The antenna is down off the tower, but someone would need either a trailer or truck rack to transport the antenna. The elements are disassembled, but not the boom as it takes a while to put the boom together. Manual included

MonoGap monoGap30: It's an asymmetrically fed vertical dipole for 30 meters. It's 23 feet tall and weighs about 10 pounds. It's still up but easy to swing down as I built a mount for it so I can lower it down whenever I need to. List price is $180. I'll sell it for $100. I've confirmed 153 DXCC entities with this antenna and 100 watts. It would be great for FT8 as 30 meters is loaded with FT8 stations. Manual included

Dentron 160-10-3KW antenna tuner with instructions. This tuner will tune coax fed, end-fed single wire and open feed balanced wire antennas. $100
Everything is in good or better condition. I can meet someone in Malad except for the T-8. I have no way to transport it without taking the boom apart and I suggest not doing that. Feel free to call me: 801-597-8945 73 de Curt K7CU Curt Wilbur <k7cu{{a}}hotmail.com>


Pocatello TOO MANY PICTURES for this home page see this link


Antenna (HyGain TH6-DXX) + a Alpha Delta dipole & coax $100
Rotor ( Ham 3) $300
Icom 7300 $1,000 Includes Astron Power supply
Icom 751a $600 ** includes Icom PS-15 supply
Icom 2KL $1,000 ** includes HI Power power supply
Icom AT 500 $350 **

Icom 27A $50
Icom W2A and Charger $200 older model with newer batteries, it's easy to program, 2m/450mhz
Heil Head set $100 or $65 with a radio
WM 1 Meter $100
MJF Tuner $50
Box of Miscellaneous Accessories ??
If you are interested in a package deal Ė letís talk about a realistic number
lets talk,

taking reasonable offers on separate items

Email Don K7ETE at K7ETE Don <dmarlerlaw(at)gmail.com>


Note: (**) These pieces of Icom equipment were checked, and repaired if necessary, by Scott Malcom
in Washington and have not been used since he returned them to me. Some of them, like the IC751a,
have not had the Malcom shipping box opened on return. I am sure he has records of his work
for each piece of equipment as I shipped them to him individually.

Heres a few follow the link above for many more

SALT LAKE CITY
A-4S cushcraft triband 4 element beam for 10-15-20 meters,

sells new for over $700
will take $250, in excellent condition,
contact Ray WA7ITX at RAY FRIESS <rayfrijr((at))msn.com>


eMAIL wa0dyu@gmail.com for any of these items, POCATELLO
this is mostly estate property, all tested by me k0ip.. or 208-251-6441
wa0dyu@GMAIL.COM thats a Zero wa Zero dyu
16 foot antenna supports , fiberglass, pull apart in the middle
$8.. I have 8 of these

Hy-Gain TH5DXX 20-15-10 meter beam, with BN-86 Balum $300 the balum is $99 from hy-gain, all in excellent condition

Hy-Gain TH7DXX 20-15-10 meter beam, with BN-86 Balum $300 these things are $1000 new ,

Hey Technicians, 10 meters is getting hot, Cushcraft skywalker 10-4CD 4 element 10 meter monobander $100 http://www.cushcraftamateur.com/pdffiles/951350.pdf

Several 2 meter beams, need to get out in the snow and figure what I have ,,

a 220Mhz beam again Snow slowing me down, $25

I've got more parts and elements for 2 meter 11 element cushcraft beams, cheap may require a
IQ over 50 to put them back together, but cheap $10

I have some stacked folded dipole's (two stacked) 2 meter $50 for your repeater, some single folded dipoles, nice base antennas $5

HY-Gain TH6DXX 20-15-10 meter beam, with BN-86 Balum $150

Hy-Gain 66DX 6 element 6 meter beam $75


Need NEW coax ,,, See Below COAX

the complete rack home brew transmitter, with RF deck sporting

4each 4-125A tubes, want more pictures, email me,
$200,, you get it all Ive got more pictures make an offer

k0ip used computer sales, all guaranteed, No Junk ,

Click this link ,,, many laptops , desk top computers, and some all in ones.

Laser Printers, cheap, all with new windows 10 loaded,

this is a work in progress, give me time ,, click here to see the computer page

SWAN CYGNET SSB 5 band radio, all tube, with mike , AC.
Works good...

$200.00 turn it on and talk,, no power supply needed



For more pictures see this link
http://www.pocatelloarc.org/75s3c

with all filters like new
$1500

TWO books History of QST, This is from an estate, I already have these
in my collection, I don't need two sets of them SO......
these two books at the ARRL are $40 cash sale $20 from me.
I can ship media mail, (cheap) , you pay the freight,
or pickup at my house, THEY ARE Perfect condition, like new.
208 251 6441


KWM-2A , excellent AS NEW $1500
come over and test it, Plug it in and talk, EMP proof, all tube radio
With PM-2 power supply and collins microphone, in use at my house now,
want the best in tube radios , this is it,,




need Coax,, see coax below, lots of great estate coax is residing in my garage, looking for a good home

need antenna wire, see wire below, lots of wire,

building an antenna see wire,

please don't drink the LMR-400 Kool-Aid, its mostly BS and expensive!!!!!!!!!!!
Siltronix (swan) 1011C I have two of these the other one is a 1011D
with power cord, and book, receives on 11 meters not sure about 10 meters
transmit appears to be IN-OP both radios need some TLC.. wa0dyu@gmail.com
$25 each




COAX

why buy new and pay a lot for postage , get it in Pocatello for way less money, all guaranteed to be perfect.
I have sold hundreds of feet of this coax, get it cheap while the supply lasts, Think ahead, what will you need in the future ??

I have hundreds of feet of RG-11 75ohm NEW (military) 50 cents a foot.. works well for dipoles, and phasing harnesses on 4x4 arrays ??

Estate property: help the xyl... I have about 600 feet of Cable Experts, new on the spool, RG-8 (9913) flex direct bury, $1.00 a foot
(new you pay $1.25 plus shipping on the internet ) its brand new


Guys, this is a bargain, k0ip 208-251-6441 wa0dyu(at)gmail.com




pocatello,

STUFF of all kinds, do you need parts, connectors, resistors , capacitors, insulators, PARTS AND MORE PARTS
contact John 251-6441...... Really, I have one of everything.. ask anyone thats been in my basement .. at least one of everything,

Wire, antenna wire, radial wires, this wire that wire, I have hundreds of kinds of wire. if your making an antenna, I will give you the wire.
need microphone cable , got that too. twisted pair, got that too.

boxes of CAT-5 Ethernet cable. plus the connectors and tools to make your custom cables,

RF adapters, BNC, N, Pl259, etc etc etc call me,, pickup only

don't be SHY, call me, lets make a deal we will both be happy with,
If you've every been in my basement, and garage you know that I'm not lying , I've GOT STUFF.

Pocatello

I have miles of copper wire for dipoles, insulators, etc, and 59+ years of ham know-how,
all free if you show up and want to make a dipole. some really nice stranded , insulated wire, hard to see,