Dentron, collins, hallicrafters swan forsale ham radio cushcraft hy-gain antennas 2 meter beam open frame power supplies for sale idaho ut mt wy HDBX-48 TenTec Hercules 444, 450 mhz Corner Reflector, 204BA , military RDO receiver, MLA-2500, 10-4CD monobander,
WEB Last Modified July 6 2020 .

Pocatello FREE

tons of Motorola, GE, Johnson BASE STATION and lots of Mobile's too
here's a sample http://www.pocatelloarc.org/swap/free come and get it, hurry, 208 251 6441 or jcwilson(at)ida.net

UTAH--- WANTED
Wanted  70-80's old transistor radios , similar to those below,  any old radio with Shortwave bands,  !!!!!!!!!!!
I am a HAM operator KE7KAG in Utah and am getting into the Shortwave vintage radio collecting.
I thought some of your readers might have some older 1970s-1980s radios I am looking for and 
wondered if I could put an add in your yellow sheets.
If so, I am currently searching on KSL with this add:

https://classifieds.ksl.com/listing/60427712
Gist Wylie    KE7KAG     gistwylie(at)yahoo.com   801-725-5352

REXBURG


EZ Digital Function Generator FG-8002. These were in use in a university laboratory. I'm selling them as functional, they are tested. in good condition
$35

Contact
pas17003((at))byui.edu
I have 5 available, Sign, Square, triangular wave output, .02 Hz to 2mHz


click the picture
for a bigger photo. contact seller for more info,
all tested and working,

WANTED

Looking for a used 60' crank-up/tilt-over or fold-over tower.
If a rotor &/or 6-20meter (warc) yagi is included I may look at that also.
Will travel & pick up or ship is desired.

Roger, Mapleton, UT 84664, email rogerlarkin((at))gmail.com or phone at 801-787-7000
(texting is best as unknowns are often sales & not answered). Thanks!






Blackfoot
left: Yaesu FT 100 mobile radio, all band, all mode, with extension cables for radio in trunk and the head on dashboard, MARS mod, with mike , box and manual, works good $400.00

right is a Yaesu FT897 with LDG tuner, built in power supply, and signal link.. its all band, all mode its Ready to go, Just plug it into the wall connect the antenna and your on the air,
works perfect very nice condition with factory manual & boxes and DC power cable, price $900
contact Neil W7NJM at nmurdock((a))capcomills.com


Rigby


Yaesu fl-2100b very little use in good condition with the original plastic cover on the front panel.
I bought this amp two years ago from an estate sale of a SK. It works like new. I have an extra
set of tubes I picked up as spares. also included is a keying relay so you can use it with modern
radios along with the original manual and schematic. $550

All items work and are from a non smoking home. NZ7V Joseph Ross 208-227-3327 nz7vradio((at))gmail.com

SALT LAKE CITY
A-4S cushcraft triband 4 element beam for 10-15-20 meters,

sells new for over $700
will take $250, in excellent condition,
contact Ray WA7ITX at RAY FRIESS <rayfrijr((at))msn.com>



TWIN FALLS
Ameritron AL-811 asking $600
MFJ Low pass filter asking $60 or free when you by Al-811
Ameritron in-rush current free when you by Al-811
Yaesu G-800DXA needs new cable $300
All items are in good working condition. Best contact information you can email me Ka7bif((at))ka7bif.com or text only 208-731-6420
eMAIL jcwilson@ida.net for any of these items, POCATELLO
this is mostly estate property, all tested by me k0ip..



Hy-Gain TH5 tri band beam $450
shop power supply $40 estate property

estate property $100 signalcrafter computing wattmeter, HF,


For more pictures see this link
http://www.pocatelloarc.org/75s3c

with all filters like new
$1500

OK a bit off topic,
but for the estate of KB7WYI past PARC president and fellow
ham, lots of he's estate ham items have sold here on the yellow
sheets, His XYL says she cant drive any more SO
one Mercedes E320 station wagon, 4 wheel drive, 61k miles
1999... contact me k0ip I will put you in touch with her, she say's
it needs to go for a fair price .....................
KWM-2A with PM-2, microphone, excellent $1500
come over and test it, Plug it in and talk, EMP proof, all tube,
Dentron MLA2500 with new capacitor bank, works good runs about 1200 watts , cool, Excellent condition, will demo, $500
need Coax,, see coax below, lots of great estate coax in residing in my garage, looking for a good home

need antenna wire, see wire below, lots of wire,

building an antenna see wire,
made for CB but should work for ham, interesting little SWR power meter 10 W and 100 W,, $10

SWAN CYGNET SSB 5 band radio, all tube, with mike , AC.
Works good...

$250.00 turn it on and talk,, no power supply needed



Scanner receiver,
it tunes to 10, 6, 2, 220mhz, 70cm, 1296mhz ham bands , aircraft, ,, 25-520 mHz then 760 -1300Mhz $35
works good, I have a DISCONE antenna for this radio $50
good down to 25 mhz and up to light speed,

need some DC power cable, lets talk price, I have two sizes of this wire
estate property

Harris RF-505 with antenna tuner, and microphone, power cord, remote control box
comes on but does not work, ?? WITH COMPLETE service manual,, $350

Heil Classic 5 --- super duper DESK mike, $275
these things go for way more on ebay,
well sometimes way more, This is like new , in the factory bos
if you have a kenwood radio i have a cable for $10

This is an all in one pc, with 22.5 inch screen
Windows 10 registered with the latest uploads,
500gb HD, 8gb RAM, I5 processor @2.90ghb
with KB and Mouse, ready to role !!

THIS IS AN UP to date computer, not junk $200
I can also supply HP Laserjets, and/or Color Laserjets,



-----------------

More computers
HP Pavillion
new windows 10 , registered Fresh load , up to date
8 GB Ram, big hard disk, intel I3 at 3.4ghz
with wide screen monitor, and keyboard and mouse,
again this is not junk ,, looks like new,
only used by a little old lady going to church ,, $100


-----------------------------------


ACER windows 7 home
only a 144gb HD, 3gb RAM, Athlon at 2.1 ghz
with many choices of monitors, keyboards, mouse,
cheap.. $20
ready for your shack, were blowing the doors of the car dealership
perfect for your shack, , windows 7 has fewer BUGS than win10
when it comes to drivers,

Printers, Ive got some used HP black and white laser printes, networkable or USB to your computer,, ALSO several color HP laser printers, ask for details,


Yaesu VX-150 Two meter
HT's and charger, Like new
good Batteries,
$200

A Real Manly Portable VHF radio, I have two and some other stuff , the entire lot for $5


you know Holly S... I have jumpers, why do I need a jumper
to go between the rig and the antenna tuner, or amplifier, or low pass filter >
I'VE got jumpers, most are PL-259's some with N connectors, $ 2 each, might
negotiate.. 208 251 6441 more pics link 1 link 2 link3


COAX

why buy new and pay a lot for postage , get it in Pocatello for way less money, all guaranteed to be perfect.
I have sold hundreds of feet of this coax, Still have lots in the garage , get it cheap while the supply lasts, Think ahead, what will you need in the future ??



Estate property: help the xyl... I have hundreds of feet of RG8 Intercomp Bury Flex by Davis , its used , like new. can supply up to 185' lengths ,
or will cut to your length, 50 cents a foot.. link info this is half price, and you won't pay a fortune for shipping if you pick it up,,

property of k0ip: I have hundreds of feet of RG-11 75ohm NEW (military) 50 cents a foot.. works well for dipoles, and phasing harnesses on 4x4 arrays ??

Estate property: help the xyl... I have about 400 feet of Cable Experts, new on the spool, RG-8 (9913) flex direct bury, $1.00 a foot
(new you pay $1.25 plus shipping on the internet ) see first item on this Link


Guys, this is a bargain, k0ip 208-251-6441 wa0dyu(at)gmail.com


pocatello,

STUFF of all kinds, do you need parts, connectors, resistors , capacitors, insulators, PARTS AND MORE PARTS
contact John 251-6441...... Really, I have one of everything.. ask any one thats been in my basement .. at least one of everything,

Wire, antenna wire, radial wires, this wire that wire, I have hundreds of kinds of wire. if your making an antenna, I will give you the wire.
need microphone cable , got that too. twisted pair, got that too.

boxes of CAT-5 Ethernet cable. plus the connectors and tools to make your custom cables,

RF adapters, BNC, N, Pl259, etc etc etc call me,, pickup only

don't be SHY, call me, lets make a deal we will both be happy with,
If you've every been in my basement, and garage you know that I'm not lying , I've GOT STUFF.

Pocatello

Pocatello

ANTENNAS - -


phone 208 251 6441

wa0dyu(at)gmail.com



Hy-Gain TH6 mk4 with BN-86 Balum $500


Cushcraft skywalker 10-4CD 4 element 10 meter monobander $100 http://www.cushcraftamateur.com/pdffiles/951350.pdf
Cushcraft satellite antenna $10 2 meters, does circular

several HyGain Verticals, like 14 AVQ.. working, however be a bit of a project $ 5 thats five dollars.
I have some stacked folded dipole's (two stacked) 2 meter $50 for your repeater, some single folded dipoles, nice base antennas $5

I have miles of copper wire for dipoles, insulators, etc, and 55+ years of ham know-how,
all free if you show up and want to make a dipole. some really nice stranded , insulated wire, hard to see,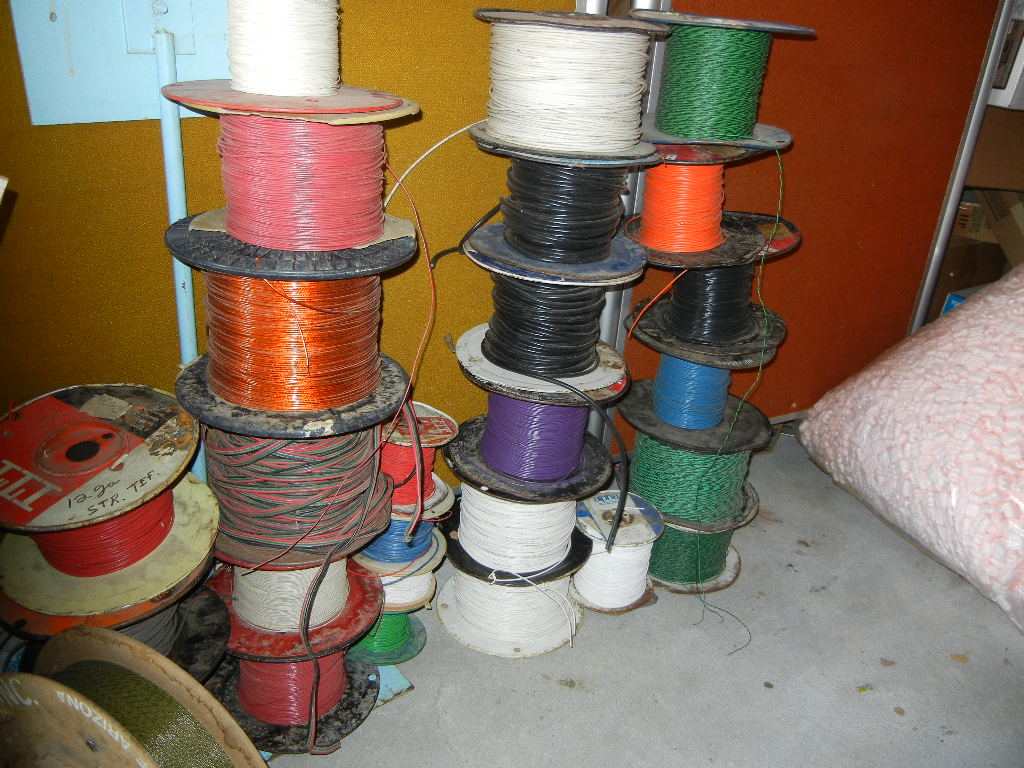 Pocatello WW2 Military

WW2 RDO receiver and 3 extra tuning heads, tested and in good working order,
THIS INCLUDES, the receiver, all the military plugs for the power & audio.. THE COMPLETE MILITARY BOOK, and all 4 plugins. $200.
modules include the one show in the radio 38 to 1000 MHz,, plus TN3b 300 to 1000 mhz, TN1b 40 to 90 mhz, & TN54B 2150 to 4000 MHZ
You get it all, will NOT ship, its too heavy, I would consider a donation to any group rebuilding a ship. k0ip((a))ida.net


one more picture at Pic3

Pocatello Hallicrafters TTY exciter 0-5B/fr $50 with book k0ip((a))ida.net


POCATELLO
2m. Corner Reflector , commercial grade $55, lets talk! k0ip((a))ida.net