Dentron, collins, hallicrafters swan forsale ham radio cushcraft hy-gain antennas 2 meter beam open frame power supplies for sale idaho ut mt wy HDBX-48 TenTec Hercules 444, 450 mhz Corner Reflector, 204BA , military RDO receiver, MLA-2500, 10-4CD monobander,
IT's FREE
&
IT's YELLOW

HAM Swap page

As you OT'ers know, the "Yellow Sheets" was
"the way" to sell your radios in the olden days,
lets call this a yellow revival from the olden days , HI HI
BUT ITS WAY BETTER ITS FREE !! !!
.

Y
E
S

I
T
S

Y
E
L
L
O
W

This page is supported by the following clubs
Magic Valley ARC, Twin Falls, Id
Pocatello ARC, Pocatello, Id
Idaho ARRL web, Id
Boise County ARC, Id
Lewis & Clark DX Society, Nampa, Id
Eagle Rock ARC, Idaho Falls, Id
Boundary ARC, Bonners Ferry , Id
Ogden ARC, Ogden, Ut
Kootenai Amateur Radio Society, Hayden, Id
Voice of Idaho ARC, Boise
Bridgerland Amateur Radio Club,, Logan, Ut
Hey everyone out there , how about getting your club on board ??
More 'lookers' equals more sales, and more to list.

Please ,webmasters, post a link to this page on your club's web
Links to other ham radio sales,

Schulman Auction, Kansas City, MO
I personally know Schulman, WOW does he get great prices for
his sellers, but the equipment is tested (a bit) and most is like new, I know that Schulman isn't trying to 'rip' anyone off.
see this link https://www.schulmanauction.com/vintage-electronics/

Second, and like everywhere, be careful who you trust
QTH.com.. https://swap.qth.com/

Third, QRZ.com , I think there web interface ""SUCKS"" ,
use it as you think appropriate..


Please notice, there is no advertising, no cookies, just ham radio. its free to list. .

The only way this page will grows is by you posting your for sale items and by telling your friends and club's about this page. Spread the Word !!

More info about selling, what this page is about, who can use it, how we deal with email ROBOTS , How to LIST

HEADS UP.. be advised that if the someone out of the area is trying to buy your stuff BE CARFUL , there are SCAMMERS at work
WEB Last Modified July 3 2021 .
Salt Lake AREA
Collins 180L3 Automatic Antenna Tuner
Un-tester, some scratches,,, Complete manual; parts, schematic, etc... - Includes the CONNECTOR. $ 155 in Salt Lake City
email jim at jim((at))biglost.com for more pictures and info,



Pocatello TOO MANY PICTURES for this home page see this link


Antenna (HyGain TH6-DXX) Alpha Delta dipole coax $100
Rotor ( Ham 3) $300
Icom 7300 $1,000 Includes Astron Power supply
Icom 751a $600 ** includes Icom PS-15 supply
Icom 2KL $1,000 ** includes HI Power power supply
Icom AT 500 $350 **
Icom AT 500 $350 **
Icom 27A $50
Icom W2A and Charger $200 older model with newer batteries, it's easy to program, 2m/450mhz
Heil Head set $100 or $65 with a radio
WM 1 Meter $100
MJF Tuner $50
Box of Miscellaneous Accessories ??
If you are interested in a package deal – let's talk about a realistic number
lets talk,

taking reasonable offers on separate items

Email Don K7ETE at K7ETE Don <dmarlerlaw(at)gmail.com>


Note: (**) These pieces of Icom equipment were checked, and repaired if necessary, by Scott Malcom
in Washington and have not been used since he returned them to me. Some of them, like the IC751a,
have not had the Malcom shipping box opened on return. I am sure he has records of his work
for each piece of equipment as I shipped them to him individually.

Heres a few follow the link above for many more

Meridian. ForSale a collection of Sams instruction / repair books. I have many books #1 thru #182. Some have never been opened.
I have the hard ones such as #1, #2 and #3 and many below #25. Some are missing but I have abt 125 out of the 182.
I would prefer to sell them all together. I would take $250. Stay safe and well.....73 Don KA7T donka7t((at))gmail.com

Providence, UT

I have a Drake R8B receiver for sale. It is truly in perfect condition and all functions work as new.
Asking $1000.00 (but make offer). Please contact me if questions or instructions at bw_cw((at))comcast.net or 435-764-9290. Thanks. Arthur White W7LUJ


SALT LAKE
Mosley A4S tribander
I need to find a new home for. It's in very good condition. Was only up for a short time before being taken down and replaced with a different antenna. It's disassembled and ready to go. I'd be willing to go as far as Preston or Pocatello to deliver or meet a buyer. Or pickup in Salt Lake. The A4S is one of the high end price beams, selling new for around $600 from the ads I've seen. I'm letting it go for $325 because I need to downsize. Willing to negotiate though. Thanks. Ray. WA7ITZ rayfrijr((at))msn.com 801-419-9060


WANTED  In Idaho   
Looking for an ICOM IC-746 PRO 
IN GOOD WORKING CONDITION WITH MIC, POWER CORD, MANUAL. 
BOX AND INSERTS WOULD ALSO BE NICE too. PLEASE E-MAIL.
HARNAR((at))Q.COM     GARY HARNAR KB7QFE

WANTED

Looking for a used 60' crank-up/tilt-over or fold-over tower.
If a rotor &/or 6-20meter (warc) yagi is included I may look at that also.
Will travel & pick up or ship is desired.

Roger, Mapleton, UT 84664, email rogerlarkin((at))gmail.com or phone at 801-787-7000
(texting is best as unknowns are often sales & not answered). Thanks!

SALT LAKE CITY
A-4S cushcraft triband 4 element beam for 10-15-20 meters,

sells new for over $700
will take $250, in excellent condition,
contact Ray WA7ITX at RAY FRIESS <rayfrijr((at))msn.com>


eMAIL wa0dyu@gmail.com for any of these items, POCATELLO
this is mostly estate property, all tested by me k0ip.. or 208-251-6441
wa0dyu@GMAIL.COM thats a Zero wa Zero dyu
16 foot antenna supports , fiberglass, pull apart in the middle
$16.. I have 8 of these

SOLD

4 element CUBEX Quad 20-15-10 band,SOLD

Hey Technicians, 10 meters is getting hot,
Cushcraft skywalker 10-4CD 4 element 10 meter monobander $100

SOLD



Dell Inspiron 3521 , with 6gb RAM, 500G HD, 1.9 I3 processor, and the battery , although isn't new, it works for 3 hours. nice computer, looks like new, the photo is somewhat deceiving ..??
Windows 10 up to date (new load) , ready for you, $100 208 251 6441
For more pictures see this link
http://www.pocatelloarc.org/75s3c

with all filters like new
$1500

KWM-2A with PM-2, microphone, excellent AS NEW $1500
come over and test it, Plug it in and talk, EMP proof, all tube, with mike, PM2 powersupply

the complete rack home brew transmitter, with RF deck sporting

4X 4-125A tubes, want more pictures, email me,
$200,, you get it all Ive got more pictures make an offer

need Coax,, see coax below, lots of great estate coax in residing in my garage, looking for a good home

need antenna wire, see wire below, lots of wire,

building an antenna see wire, please don't drink the LMR-400 Kool-Aid, its mostly BS and expensive!!!!!!!!!!! 5y

100feet ladder line, make offers


SWAN CYGNET SSB 5 band radio, all tube, with mike , AC.
Works good...

$200.00 turn it on and talk,, no power supply needed




COAX

why buy new and pay a lot for postage , get it in Pocatello for way less money, all guaranteed to be perfect.
I have sold hundreds of feet of this coax, Still have lots in the garage , get it cheap while the supply lasts, Think ahead, what will you need in the future ??

property of k0ip: I have hundreds of feet of RG-11 75ohm NEW (military) 50 cents a foot.. works well for dipoles, and phasing harnesses on 4x4 arrays ??

Estate property: help the xyl... I have about 500 feet of Cable Experts, new on the spool, RG-8 (9913) flex direct bury, $1.00 a foot
(new you pay $1.25 plus shipping on the internet ) see first item on this Link


AND some other types (rg-8 size) , new on the spool what do you need, $1. a foot

Guys, this is a bargain, k0ip 208-251-6441 wa0dyu(at)gmail.com


pocatello,

STUFF of all kinds, do you need parts, connectors, resistors , capacitors, insulators, PARTS AND MORE PARTS
contact John 251-6441...... Really, I have one of everything.. ask any one thats been in my basement .. at least one of everything,

Wire, antenna wire, radial wires, this wire that wire, I have hundreds of kinds of wire. if your making an antenna, I will give you the wire.
need microphone cable , got that too. twisted pair, got that too.

boxes of CAT-5 Ethernet cable. plus the connectors and tools to make your custom cables,

RF adapters, BNC, N, Pl259, etc etc etc call me,, pickup only

don't be SHY, call me, lets make a deal we will both be happy with,
If you've every been in my basement, and garage you know that I'm not lying , I've GOT STUFF.

Pocatello

Pocatello

ANTENNAS - -


phone 208 251 6441

wa0dyu(at)gmail.com



Hy-Gain TH5 20-15-10 meter beam, with BN-86 Balum $300 the balum is $99 from hy-gain, all in excellent condition
Hey Technicians, 10 meters is getting hot, Cushcraft skywalker 10-4CD 4 element 10 meter monobander $100 http://www.cushcraftamateur.com/pdffiles/951350.pdf
Cushcraft satellite antenna $10 2 meters, does circular (SOLD )
are you trying to build a beam, vertical, etc I've got lots of tubing various sizes and lengths , plenty of parts to make an cushcraft 11 element 2 meter beam,

I have some stacked folded dipole's (two stacked) 2 meter $50 for your repeater, some single folded dipoles, nice base antennas $5

I have miles of copper wire for dipoles, insulators, etc, and 55+ years of ham know-how,
all free if you show up and want to make a dipole. some really nice stranded , insulated wire, hard to see,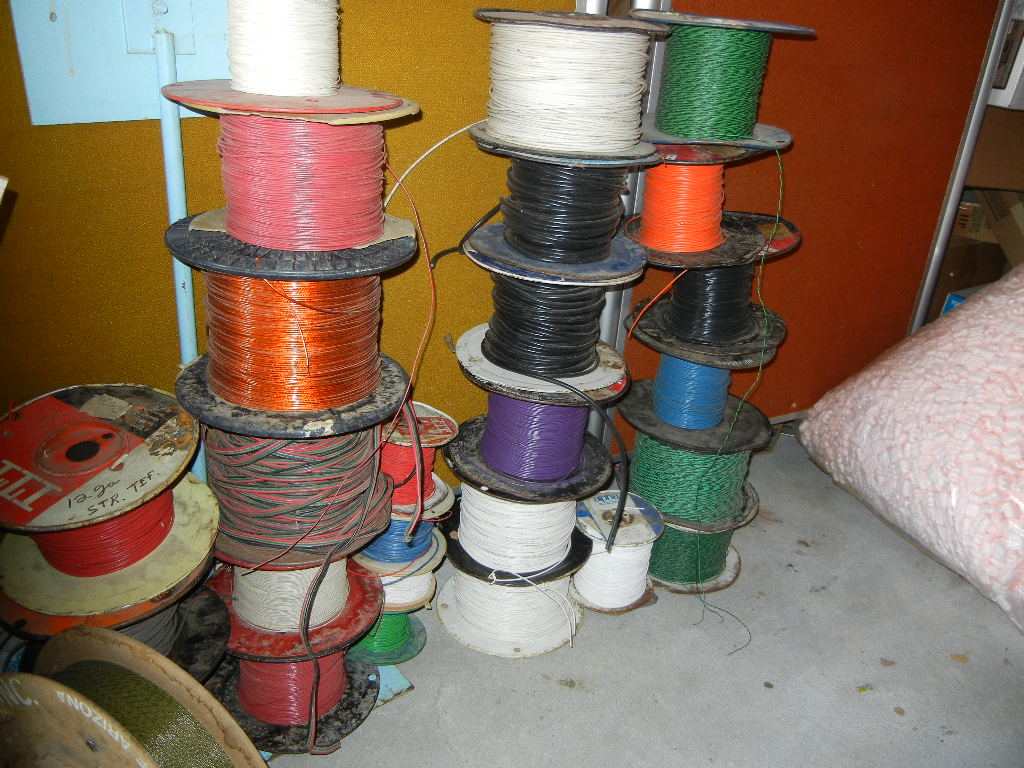 Pocatello Hallicrafters TTY exciter 0-5B/fr $50 with book k0ip((a))ida.net


Below is just some of the stuff that sold !!!!
things sell all the time ,,, get your club on board
heathkit SW receiver, SOLD


heathkit SB-1000 amp SOLD

CushCraft R 7 vertical

SOLD

13.8VDC 2.5A

sold
sold
13.8vdc 3a ampSold
Hy-Gain Long John LJ- 204BA with BN-86 Balum

SOLD


Cushcraft skywalker 10-3CD 3 element 10 meter monobander

SOLD


Cushcraft A50-5 5 element 6 meter

SOLD


Cushcraft 11 element 220mhz beam

SOLD



I have many 2 meter beams, alll CHEAP.. $1 an element, many with 8 elements. All

SOLD



Cushcraft 2 m RINGO RANGER +, $25 this is the ranger with the added element.

SOLD


Hustler 4 band vertical , in excellent condition, Hustler 4-BTV

SOLD

SWAN Sold

13.8VDC 2.5A Sold I have two of these



For Sale: Alpha 8406 – 1500 watt 6 meter amplifier. SOLD
Sold
Sold

Sold


Sold


Sold

Sold

Sold
Sold

Sold

Sold
Sold

Sold

Sold
Sold
Sold

Sold
Icom 701 SOLD
SOLD
SOLD
SOLD
SOLD
SOLD
SOLD
SOLD

CushCraft R-5 vertical

SOLD
TWO,, NO a bunch of Rohn 25 G tower sections SOLD
SOLD
SOLD

SOLD

SOLD
SOLD

SOLD
SOLD
SOLD

SOLD
SOLD
SOLD
SOLD
SOLD
SOLD
SOLD
SOLD
SOLD
SOLD
Hy-Gain TH3-mrk 4 tri band beam, $300 with BN86SOLD

Tail Twister Rotor SOLD
SOLD









SOLD

SOLD
SOLD
SOLD
SOLD
SOLD
SOLD
SOLD
SOLD
SOLD
SOLD
SOLD
SOLD
SOLD
SOLD
SOLD
SOLD
2 element 40 meter beam SOLD